NSEN Profile
NSEN Valve was founded in 1983, it is a national "High-tech enterprise", "Zhejiang Province Specialization, Refinement, Differentiation, Innovation and New new enterprise" and "Technology enterprise in Zhejiang Province", "A member unit of China General Machinery Industry Association", and a "China Quality Credit AAA-level company". The company is located in Lingxia Industrial Zone, Wuniu Street, Yongjia County, Wenzhou City, Zhejiang Province. Over 30 years of experience, NSEN has built a stable team of high-quality talents, of them more than 10 technicians of senior and semi-senior titles have been engaging in the valve scientific research all the year-round, to ensure the product technology is continually innovated and the quality to be one-up. 
Valves of "NSEN" brand have long enjoyed a good reputation in the industry, hold a high scientific content, and have been awarded more than 30 national patents, of which the "Bi-directional metal to metal seal butterfly valve" was awarded the national invention patent, it makes two way sealing "zero" leakage realized under 160kgf/cm2 high pressure and features without lowering the working efficiently under 600℃ High temperature, filling up the national gap and creating the high-quality valve on the market, so it was listed in the directory of the national key new product by the State Economic and Trade Commission, and has been selected as an excellent selection of world patents. The patented product "Metal-metal two-way sealing butterfly valve" independently developed by the NSEN is comparable to Europe imports, solid metal-to-metal sealing, and replaceable sealing pair, which has the advantages of two-way sealing, zero leakage, erosion resistance, wear resistance, and long service life. As the earliest manufacturer of such products, NSEN is the main drafting company of national standards for butterfly valves.
At present, we hold advanced production and detection equipment, such as CNC machining center, large CNC vertical lathes, numerical control machine tools, as well as physical and chemical testing equipment and instruments such as material chemical composition analysis, mechanical property experiments, etc. And has established a series of operation management systems such as MES, CRM, and OA to create an intelligent information production workshop.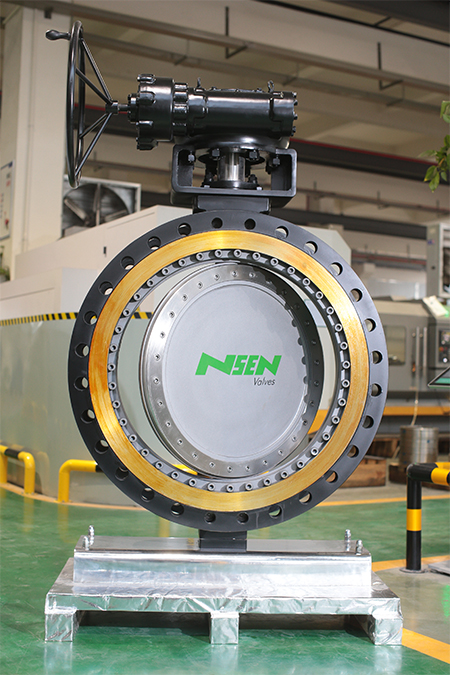 NSEN Valve has been awarded the Metal Hard Seal Butterfly Valve Enterprise Technology R&D Center, a patent industrialization enterprise; independently developed butterfly valves, and obtained 1 world outstanding patent, 5 invention patents, more than 30 utility model patents, 1 national key new product, 6 provincial-level new products, provincial-level innovative technology new products, provincial-level excellent scientific and technological products, provincial-level excellent quality products and many other butterfly valve certificates.
NSEN established a perfect quality management assurance system and has been approved by the special equipment TS certification, ISO9001 quality management system certification, CE certification, API certification, EAC certification, and so on.
BS, ISO, ANSI, API, GOST, GB, and HG standards are executed for the products, thus making them available with excellent controlling and sealing performance, broadly used for nuclear power, petroleum, chemical industry, electric power, metallurgy, ship-making, heating, water supply, and drainage, etc. fields and have kept a good working achievement for years.
Several kinds of optimized allocation for the material and the sealing structure can also be provided following the working condition requirement in the actual use of the product to meet the different needs of the clients on the product performance.
Looking forward to the future, NSEN Valve will uphold to take as heretofore "quality, velocity, innovation" as the core cultural concept of enterprise, make sure the product technology is in front, promote the enterprise innovation, constitute the enterprise core competitive force and continually create new achievement to provide the users with reliable products and services.