Metal Seated Bi-directional Butterfly Valve
Product Detail
Applicable Standards
Structure
Warranty
Product Tags
NSEN Metal to metal seal Bi-directional Triple offset butterfly valve adopts the structure of "Metal To Metal Seat ring", i.e. valve's sealing ring of disc/seat are all metal with hard faced treatment. The solid metal sealing structure could eliminate the problem of of leakage and unstable sealing performance caused by U-type seat or L-type seat. Besides, our specially sealing design could allow the valve operate in differential pressure without reducing of pipe pressure.
• Triple offset geometry
• Integral metal seal ring sealing
• Zero Leakage for both way
• Anti-blow out shaft
• Fire safe design to API607
• Replaceable Seat & Disc Sealing
• 0°-90°control, no jump area
• Friction free
---
Previous:
Wafer Triple offset Butterfly Valve
Next:
---
Valve Marking: MSS-SP-25
Design & Manufacture: API 609, EN 593
Face to Face Dimension: API 609, ISO 5752, EN 558
End Connection: ASME B16.5, ASME B16.47, EN 1092, JIS B2220, GOST 12820
Test and Inspection: API 598, EN 12266, ISO 5208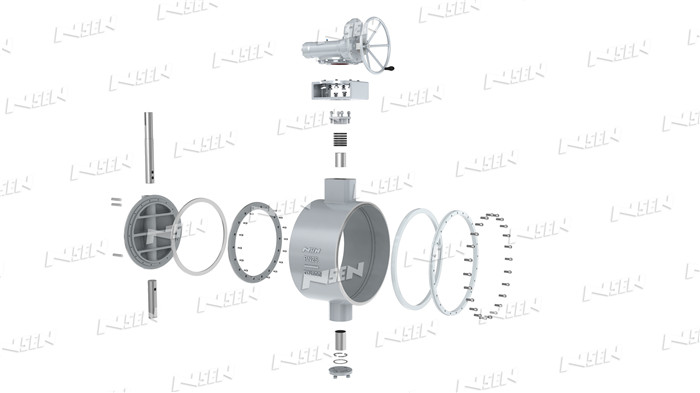 Bi-directional sealing design
This series could reach Zero-leakage requirement for both way in related standard. Bi-directional sealing make the installation with flow in either direction, vertically, or horizontally and without any leakage. The highest pressure ranting could reach is 600LB.
Friction free design
The use of triple eccentric structure reducing the friction during switching between the sealing surface of the disc and valve body, so that the disc can quickly disengage the valve seat when the triple eccentric butterfly valve is opened or closed.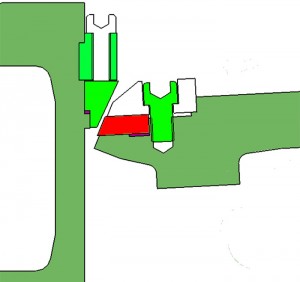 Double safety structure
In order to prevent phenomena of disc deformation, stem misalignment, sealing face biting each other caused by fluid pressure and temperature, NSEN butterfly valve uses two separate thrust rings on the upper and down side of disc which ensures valve's working under any conditions.
To avoid potential accident caused by blowing out stem, anti-blow out stem structure is designed for NSEN butterfly valve.  
No Dead Zone Design     
The application in controlling/regulating situation has been taken into consideration during design. Using the sealing principal of triple eccentric butterfly valve, NSEN valves realize "No dead zone design" which not only avoids the problems of "Opening jump area" of common butterfly valves but also eliminates valve's problem of couldn't be regulated or controlled when in its small opening angle which may be caused by friction or other unsafe factors. This means NSEN butterfly could regulate or control the medium from almost 0 degree up to 90 degrees.
Seat ring material       
Seat ring of NSEN metal sealed butterfly valve is made of forged alloy steel which has the advantages of anti-scour, wear-resistance, high pressure and temperature resistance and long life span.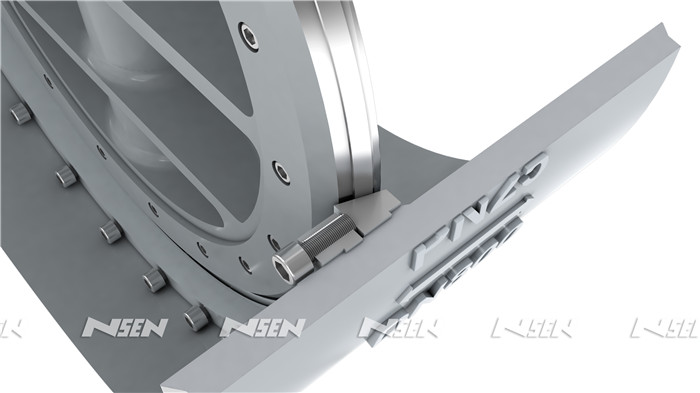 Replaceable sealing ring       
The sealing rings of disc and seat are all separate for NSEN series butterfly valve, and they could be replaced when needed. Either the seating ring of disc or seat could be changed individually when it's broken which not only lowers your maintenance cost but also makes maintenance easier.
Evenly Fixed Structure      
Butterfly valve's sealing ring is fixed with evenly distributed bolts/nuts. Every bolt is precisely located and endure force evenly. This structure eliminates the problems of leakage or loose sealing ring due to uneven force of bolts and nuts.
Fire safe design and structure      
Metal seated structure makes valve fire-safe and meet the requirement in API607. 
Torque seated
Valves could always be double-directional sealed. Sealing is achieved by the torque provided by actuator but not medium force which ensures reliable sealing performance under both high and low working pressure. And valves could pass the test of API609 and ISO5208
Live loaded packing system      
Generally, people only focus on the internal leakage which occurs on the seat part but ignore the external leakage problem, i.e the leakage of packing part. Live loaded packing design with combined structure ensure NSEN Butterfly valve could meet max. leaking ≤20ppm. It makes packing sealing reliable and prolongs the maintenance-free period of packing.
Gear box
The manual gear box offered in high quality and safety structure, which has combined with current well-known brand gear box features and the protection level reach IP 67.
NSEN strictly follow the free repair, free replacement and free return services within 18 months after the valve is ex-works or 12 months after being installed and used on the pipeline after ex-works (upon which comes first). 
In the case the valve gets failed due to the quality problem during the use in the pipeline within the quality warranty period, NSEN will provide free quality warranty service. The service shall not be ended until the failure is surely made settled and the valve normally workable as well as the client signs the letter of confirmation.
After expiration of the said period, NSEN guarantees to provide the users with on-time quality technical services whenever the product needs to be repaired and maintained. 
Write your message here and send it to us