Triple offset Bi-directional Butterfly Valve
Product Detail
Applicable Standards
Structure
Application
Warranty
Product Tags
Overview
NSEN Triple offset Bi-directional butterfly valve adopts the replaceable sealing structure of "Stainless steel and graphite laminated ". This ensures reliable sealing performance and longer life span under frequent opening/closing working condition.
• Multi-layer sealing
• Low opening torque
• Zero Leakage for both way
• Friction free between seat and sealing
• Fire safe design to API607
• Replaceable Seat & Disc Sealing
---
---
Valve Marking: MSS-SP-25
Design & Manufacture: API 609, EN 593
Face to Face Dimension: API 609, ISO 5752, EN 558
End Connection: ASME B16.5, ASME B16.47, EN 1092, JIS B2220, GOST 12820
Test and Inspection: API 598, EN 12266, ISO 5208, ANSI B16.104
Top Flange: ISO 5211
Structure
Triple offset butterfly valve add a third angular eccentric based on double eccentric structure. The third offset is consist of an certain angle be
tween center line of valve body and conical seat sealing face, it ensure the sealing ring of the disc can be separated or touched with seat rapidly so that friction and squeeze between seat and sealing ring will be eliminated.
Bi-directional sealing design
This series could reach bi-directional Zero-leakage requirement in related standard, no mater the hydraulic test or the air test. The highest pressure ranting could reach is 600LB.
Low opening torque
This serial uses the Radial Dynamically Balanced Sealing System,by means of optimized design, the forces undertaken on both sides for the butterfly disc inlet and outlet become approximately balanced so as to effectively lower the valve opening torque.
Seal ring material        
Seal ring of this serial is made of stainless steel plate with graphite/ carbon fiber/ PTFE etc. The main sealing is stainless steel plate, non-metal interlayer as the assistant one. This structure makes the valve more reliably sealed and the leakage of sealing reach VI class to ANSI B16.104 or A class to ISO 5208. Compare to the rubber asbestos plate material, our adopting material is more wearable, anti-flush, reliable and better for environmental.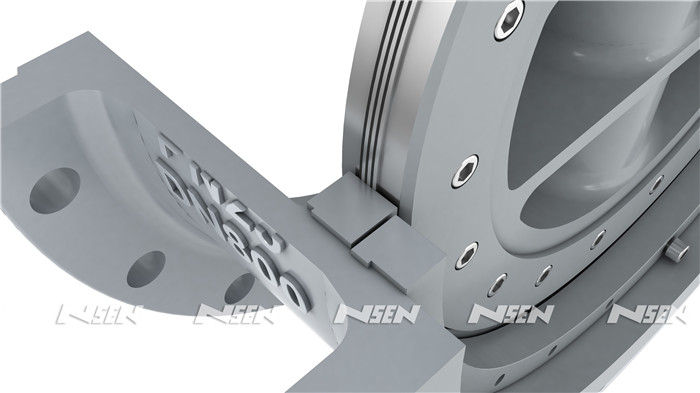 Replaceable sealing ring      
The sealing rings of disc and seat are all separate for NSEN series butterfly valve, and they could be replaced when needed. Either the seating ring of disc or seat could be changed individually when it's broken which not only lowers your maintenance cost but also makes maintenance easier.
Packing-combined sealing system       
NSEN adopt this structure to ensure valve leakage could meet ≤20ppm at maximum. The dynamic sealing structure is available if necessary, which make the packing sealing under good condition and prolong the free maintenance period of packing.
Evenly Fixed Structure      
Butterfly valve's sealing ring is fixed with evenly distributed bolts/nuts. Every bolt is precisely located and endure force evenly. This structure eliminates the problems of leakage or loose sealing ring due to uneven force of bolts and nuts.
Fire safe design and structure      
Metal seated structure makes valve fire-safe and meet the requirement in API 607. 
District energy : Thermal power station, heat exchange station, regional boiler plant, hot-water loop, stem pipe system
Refinery : Brine, Carbon dioxide vapor, propylene plant, vapour system, propylene gas, ethylene plant, ethylene cracking device, coking plant Nuclear power plant : containment isolation, seawater desalination system, brine system, core spray system, pump isolation
Thermal power generation : condenser cooling, pump and steam extraction isolation, heat exchanger, condenser cooling isolation, pump isolation
Low temperature : liquid gas, liquefied natural gas systems, oilfield recovery systems, gasification plants and storage equipment, liquefied natural gas transportation systems
Pulp and paper : steam isolation, boiler water, lime and mud
Oil refining : Oil storage isolation, air supply valve, desulfurization system and waste gas processor, flare gas, acid gas isolation, FCCU
Natural gas
NSEN strictly follow the free repair, free replacement and free return services within 18 months after the valve is ex-works or 12 months after being installed and used on the pipeline after ex-works (upon which comes first). 
In the case the valve gets failed due to the quality problem during the use in the pipeline within the quality warranty period, NSEN will provide free quality warranty service. The service shall not be ended until the failure is surely made settled and the valve normally workable as well as the client signs the letter of confirmation.
After expiration of the said period, NSEN guarantees to provide the users with on-time quality technical services whenever the product needs to be repaired and maintained. 
Write your message here and send it to us